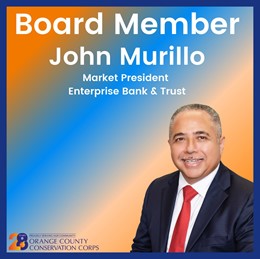 OCCC is proud to introduce our newest additions to the Board of Directors, John Murillo, and Albert Garcia. We are honored to have them join our board of dedicated community members eager to steer our organization toward future success.
John Murillo is currently the Senior Vice President and LA-Based Market President of Enterprise Bank & Trust. Murillo offers a nearly 35-year track record of success in the banking industry. He brings an extensive background in managing and developing teams and establishing and growing client relationships. John has been a strong partner with OCCC, and we are excited to have his expertise shared with our board.
Albert J. Garcia is the current Director of Environmental Services at Southern California Gas Company (SoCal Gas) and was previously serving SoCal Gas as Senior Environmental Council for nine years. Albert's insight and expertise in Environmental Law are a true asset to our organization, and we are excited to welcome his insight to our board.
Join the OCCC in welcoming our new Board Members!
View all the latest news from the OC Corps